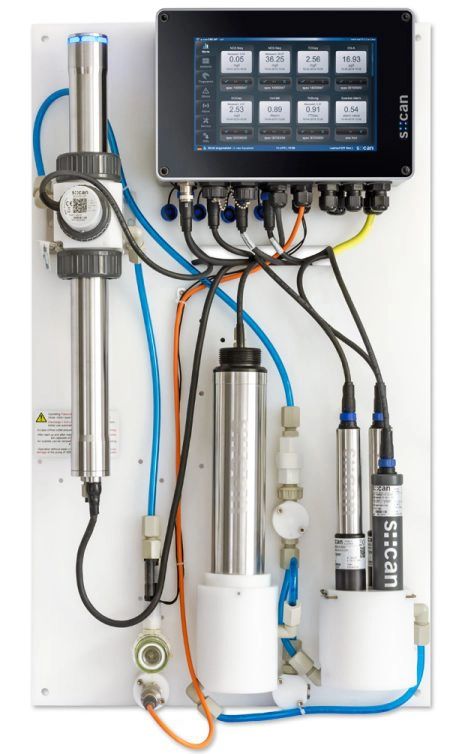 Proven Reliability, Stability and Robustness
s::can is the world technology leader for submersible online UV Vis spectrometer probes and provides monitoring systems and software for drinking-, environmental-, waste-, and industrial water applications.
The full range online: s::can offers a complete set of accurate, reliable, low-maintenance and inexpensive measuring instruments for comprehensive and time–resolved water quality monitoring. We consider online water quality monitoring the essential basis for the monitoring of any natural water bodies and for the economically and ecologically optimised operation of waste water treatment plants, drinking water works and industrial plants. Such monitoring and optimisation can help to minimise the emission of pollution and hazardous substances into the environment thus helping to secure optimum water quality for human consumption at best possible economic efficiency.
With a smart mix of software, hardware and algorithms, s::can has achieved a technological edge to secure and expand its dominant position in the world market. By investing more than 15% of its expenditures on research and development, s::can is continuously developing new technologies and is focusing on the core brand values: simple design and affordability.
Spectrometer Probes
spectro::lyser (TSS, Turbidity, NO3-N, COD, BOD, TOC, DOC, UV254, NO2-N, Color, O3, HS-, BTX, AOC, Fingerprints and Spectral Alarms, Temperature and Pressure). Available in Titanium and Industrial ATEX Variants
i::scan (COD, BOD, TSS, Color, Temperature)
carbo::lyser V3 (UV254, TOC, DOC, COD, or BOD)
ozo::lyser V3 (TSS/Turbidity, Ozone
nitro::lyser V3 (Turbidity, TSS, TS, NO3-N and NO3)
multi::lyser V3 (Turbidity, TSS, TS, TOC, DOC, BOD, COD, COD f, NO3-N, NO-3, UV254 and UV254 f)
uv::lyser V3 (Turbidity/TSS and up to 4 freely chosen wavelengths between 190 and 720 nm)
Other Sensors
ammo::lyser pro, eco (Ammonnia, Temperature)
chlori::lyser (Chlorine, Temperature)
chlodi::lyser (Chlorine Dioxide, Temperature)
hyper::lyser (Hydrogen Peroxide, Temperature)
peroxy::lyser (Peracetic Acid, Temperature)
condu::lyser (Conductivity, TDS, Salinity, Temperature)
redo::lyser (ORP, Temperature)
pH::lyser (pH, Temperature)
fluor::lyser (Flur, Temperature)
soli::lyser (Suspended Solids [TSS/MLSS], Temperature)
oxi::lyser (Dissolved Oxygen, Temperature)
Terminals, Software
con::cube V3 (Compact, versatile terminal for data acquisition and station control)
moni::tool
vali::tool (Revolutionary new platform for the management of an almost unlimited number of stations, online probes, analyzers and parameters)
ana::tool (Identifies unknown and unusual conditions and enables operators to react in a timely manner to faults in the monitored system, determines normality of this data and triggers an alarm when a significant deviation from the norm is detected)
con::lyte (Displays the readings of all s::can probes & sensors connected on site via backlight LCD)
io::Tool (Intuitive web interface for data visualization and configuration of the spectro::lyser V3)
visu::tool (Fast and easy-to-use data visualization software for PCs and notebooks)
con::nect V3 (Power supply for the spectro::lyser V3)
con::nect (Interface box to connect the probe to the computer/notebook and to the supply of compressed air and to the power supply)